Select a Region:


Select a Country:


Select a City:

Overview

Poland is a land of immense beauty. Centuries old architecture adorns the streets of many cities, ancient forests contour the landscapes and sandy Baltic Sea beaches line its coast. Mountain ranges and lake districts add to the varied and exhilarating list of things to see. Winter and summer alike offer indoor and outdoor activities such as skiing, snowboarding, rock climbing, fishing, caving, kayaking, golf and hunting. The Baltic Sea and many of the lakes have aqua attractions for those in search of underwater thrills. For those in need of a little pampering, numerous spas are scattered throughout the country promising a sense of wellbeing. Rich in culture and centuries of tradition, Poland is home to numerous World Heritage Sites and museums enabling the visitor to 'connect' with their past. An insightful visit, learning about the challenges these people have faced through history and the hopes and aspirations awaiting fulfillment.



Places & Activities


Destination Cities
Warsaw is the capital city and has been for centuries. A city situated on the banks of the Vistual River in the heart of Poland, and for that matter Europe, has a soul of its own. Chopin concerts, international music festivals, National Philharmonic performances, historical monuments, dozens of museums and the Warsaw Old District are all part of the charm of visiting Warsaw. The reconstruction of the Royal Castle, is a museum gloriously decorated. You can visit The King's Apartment, Hall of the Crown's Horse Guards, the Audience Chamber and other delightful rooms. Ever-present reminders of the terror and suffering during WWII are evident in the monuments and museums dotted around the city. Heroes of the Ghetto and the Jewish Historical Institute are such reminders. The 'Royal Route' will take you from the modern to the old, past shops, palaces and the Lazienki Park. bb was the royal city and capital for over five centuries. Landmarks such as Wawel Hill and the Renaissance Wawel Castle, the Old Town with its marketplace (1257), ancient architectural facades, palaces, The City Hall and Tower and the St. Mary's Church Tower take you back in time. Daily trumpet calls announce "MIDDAY", sidewalk cafes and restaurants beckon and displays of magnificent artwork and historical artefacts await your perusal at the museums and galleries. Kazmierz, a well known Jewish settlement, ravaged during the World War II is a sobering visit. Malbork is a great example of medieval architecture. It boasts a Gothic castle, which served as the headquarters for the Teutonic Knights. This castle is the venue for many of the cities events. Concerts, feasts and exhibits are hosted in this charming castle and like many castles in Poland legends of ghosts and apparitions make the visit that much more intriguing. The Nogat River allows for daytime activities such as boating and canoeing wall the while taking in the beauty of the medieval city. Nicolas Copernicus, the father of modern astronomy was born in the city of Torun. Although somewhat far a field you can visit the remains of a Teutonic Castle, the Great Bordeois Hall and the Royal Hall. Feast your eyes on medieval art and the Old City Walls.


Points of Interest
Salt mining is an industry dating back 700 years in Wieliczka. A large mine with 19 chambers has now become a tourist attraction. With 19 chambers and the staircase dating back to 1744, the visitor can be awed by the salt sculptures and large salt lakes. The walls and ceilings have been ornately carved and the sculptures include a cathedral complete with altar!! The fifth level of the mine is currently used to treat those with respiratory ailments and allergies. You may think a visit to Auschwitz is a little sordid. Perhaps it is, but it is an experience that may rekindle your humanity and broaden your mind to the gruesome acts and facets found in humankind. On a much lighter note, you may wish to visit one of the many ski resorts. Well known resorts include Zakapone, Szczyrk, Wisla, Szklarska Poreba, Karpacz and Zielenlec. The tradition of thermal health spas, dating back to the 13th century in this part of the world, has not been forgotten, Kudowa Zdroj is one of the better known facilities. There are dozens of national parks good for bird watching and exploring indigenous forests, marine life (Wolin National Park), mountains, caves (Ojcow National Park) and canyons.



Culture & Food


Languages Spoken
Polish. Tour guides and service professionals in tourist-oriented facilities are very likely to speak English.


Religions
Roman Catholic 95% (about 75% practicing), Eastern Orthodox, Protestant, and other 5%


People and Culture
Architecture, performing arts, music and literature attest to the rich culture of this European nation. There are many musical festivals held in cities and towns, a variety of classical to jazz and modern music. Chopin is a well known composer originally from Poland. Shining the light on religious tolerance, worshipers enjoy freedom to gather at churches, synagogues and mosques. Fortune telling is and age-old custom still practised today. Various methods are used reading hot wax poured into a bowl of cold water, cherry twig reading, shoe tossing and others. Although, not taken to heart, these practices form part of a tradition of St Andrew's Day. The Poles are proud of their language and perhaps it would be a good idea to learn a few Polish phrases to get by.

A resident or national of Poland is called "Pole". The Term used to describe things from here is "Polish". For example, "Polish food".



Tipping and Bargaining
Tipping is practiced. Most prices for merchandise are non-negotiable.

Restaurants: 10%
*Porters: 3 New Zloty per bag
Taxi: Round up

* Try to use local currency. Foreign coins cannot be exchanged and will be useless to the person receiving them. Foreign paper money requires a trip to the bank for exchange. However paper US dollars are accepted almost universally.


Food
Coastal areas and those close to lakes enjoy fresh fish and seafood. Well known dishes include duck, venison and fruits of the forest. Smoked sheep's milk cheese is a speciality from the Tatra Mountain area. The cuisine is hearty and most meals will include bread, soup and meat. Pork is widely consumed and may even be recognised as their national meat! Fermented rye soup is a well known dish. Meals are generally rounded off with desert such as cakes or pastries - no time to be counting the calories.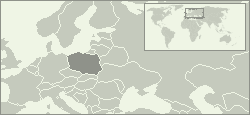 Geography
Location
Poland is in Central Europe, east of Germany



Geographical Features
Situated in Central Europe between Germany, the Czech Republic, Slovakia, Ukraine, Belarus, Lithuania and Russia, Poland enjoys accessible terrain. Historically, this has been the cause of many wars and border shifts. Its landscape is characterised by lowlands (the northern European Plain), mountainous areas (Sudetes and Carpathian Mountains), a number of large rivers (such as the Vistual, Oder, Warta and Bug), remains of ancient forests and lake districts, of which Masuria is the most visited.


Total Area:
312,685 km2 (120,696 miles2)
Coastline:
491 km (305 miles)
Lowest Point:
-2 m (-7 feet)
Raczki Elblaskie
Highest Point:
2,499 m (8,197 feet)
Rysy
Regions/States/Provinces/Districts
Poland is divided into 16 administrative regions known as voivodships (województwa, singular - województwo).

Greater Poland Voivodship (Wielkopolskie), Kuyavian-Pomeranian Voivodship (Kujawsko-Pomorskie), Lesser Poland Voivodship (Malopolskie), Lodz Voivodship (Lódzkie), Lower Silesian Voivodship (Dolnoslaskie), Lublin Voivodship (Lubelskie), Lubusz Voivodship (Lubuskie), Masovian Voivodship (Mazowieckie), Opole Voivodship (Opolskie), Subcarpathian Voivodship (Podkarpackie), Podlasie Voivodship (Podlaskie), Pomeranian Voivodship (Pomorskie), Swietokrzyskie Voivodship (Swietokrzyskie), Silesian Voivodship (Slaskie), Warmian-Masurian Voivodship (Warminsko-Mazurskie), West Pomeranian Voivodship (Zachodniopomorskie)



Climate


Climate
The summer months (June to August) are characterised by dry sunny days with intermittent showers. Autumn is usually warm, fading away into grey skies and cold, snowy weather from November. The mountains and mountain valleys are coldest with an average temperature below zero. Although spring officially arrives in April, it is slow to warm up. Most days are sunny, but can be interspersed with cold snaps characteristic of winter weather. Unless you intending on enjoying a skiing holiday, the best time to visit is late spring, summer and early autumn. The coastal areas enjoy a moderate climate with warmer winters and cooler summers.


What to Wear
Cool clothing with a warm overcoat is necessary during the warmer months. Heavyweight clothing will be needed in winter, particularly in the mountainous areas where gloves and woollies will keep the winter chills away. You will most probably need to pack your waterproofing regardless of the season. Although you may be able to hire some of the gear for your sporting activities you may wish to bring your own - provided your travel arrangements allow.



Brief History


Capital City: Warsaw




Population: 38,635,144



National Holiday: Constitution Day, 3 May (1791)


The Polish nation started to form itself into a recognisable unitary territorial entity around the middle of the 10th century. Poland's golden age occurred in the 16th century during its union with Lithuania in the Polish-Lithuanian Commonwealth. The citizens of Poland took pride in their ancient freedoms and parliamentary system, though the Szlachta (see "Nobles' Democracy" article) monopolised the benefits thereof. Since that time Poles have regarded freedom as their most important value. Poles often call themselves the Nation of the free people.

In mid-17th century a rebellion of Cossacks led by Bohdan Chmielnicki ushered in the turbulent time of The Deluge. Numerous wars against Turkey, Russia, Sweden, Transylvania and Brandenburg-Prussia ultimately came to an end in 1699. During the following 80 years, the waning of the central government and deadlock of the institutions weakened the nation, leading to dependency on Russia. The Enlightenment in Poland fostered a growing national movement to repair the state, resulting in the first written constitution in Europe. The process of reforms ceased with the partitions of Poland between Russia, Prussia, and Austria in 1772, 1793 and 1795; these ultimately completely dissolved Poland. Poles resented their shrinking freedoms and several times rebelled against their oppressors.

After the Napoleonic wars a reconstituted Polish state, the Duchy of Warsaw, ruled by the Russian tsar as a Congress Kingdom, possessed a liberal constitution. However, the Russian tsars soon reduced Polish freedoms and Russia eventually de facto annexed the country. Later in the 19th century, Austrian-ruled Galicia became the oasis of Polish freedom. During World War I all the Allies agreed on the restitution of Poland that United States President Woodrow Wilson proclaimed in point 13 of his Fourteen Points. Shortly after the surrender of Germany in November 1918, Poland regained its independence as the Second Polish Republic. A new threat, Soviet aggression, arose in the 1919 (Polish-Soviet War), but Poland succeeded in defending its independence.

The Second Polish Republic lasted until the start of World War II in 1939 when Germany and the Soviet Union split Polish territory between them. Poland suffered greatly in this period (see General Government). Of all the countries involved in the war, Poland lost the highest percentage of its citizens: over 6 million perished, half of them Polish Jews. Poland's borders shifted westwards; pushing the eastern border to the Curzon line and the western border to the Oder-Neisse line. After the shift Poland emerged smaller by 76 000 km sq or by 20% of its pre-war size. The shifting of borders also involved the migration of millions of people of different nationalities. Eventually, Poland became, for the first time in history, an ethnically unified country.

The victory of the Soviet Union brought a new communist government to Poland, analogously to much of the rest of Central Europe. In 1948 a turn towards Stalinism brought in the beginning of the next period of totalitarian rule. In 1956 the régime became more liberal, freeing many people from prison and expanding some personal freedoms.

Labour turmoil in 1980 led to the formation of the independent trade union, "Solidarity", which over time became a political force. It eroded the dominance of the Communist Party; by 1989 it had triumphed in parliamentary elections, and a Solidarity candidate eventually won the presidency.

A shock therapy program during the early 1990s enabled the country to transform its economy into one of the most robust (according to the criteria of neoliberal economics) in Central Europe. Despite the regression in levels of social and economic human rights standards, some improvements in other human rights standards occurred. Poland joined the NATO alliance in 1999.

Following a massive advertising campaign by the government in favour of joining the European Union, Polish voters voted yes to the EU in a referendum in June 2003. Poland will officially join the European Union on 1 May 2004.



Electricity


Current
The power in Poland is 220 volts, 50 Hz AC

Volts (V) refers to the amount of electricity flowing through the circuit. Hertz (Hz) is the frequency measured in cycles per second.


Plugs
Poland has 2 types of connection plugs.


| | | |
| --- | --- | --- |
| | Two round pins | |
| | Two round pins with two grounding clips on the side of the plug | |
Phone and Modem
Modem Adaptor
Poland uses the following modem/phone plug adaptors: TPR



Country Code and IDD Code
The country code for Poland is 48. The International direct dial code is 00.



Air and Ground Travel


Travel by Air
Eleven domestic, and a handful of international airports, make air travel convenient with flights to Warsaw, Sczecin, Gdansk, Bydgoszcz, Poznan, Lodz, Zielona Gora, Wroclaw, Katowice, Cracow and Rzeszow. LOT Polish Airlines is the domestic carrier.


Travel by Rail
Trams and trolley-buses are efficient city travel services and can be found in many city centres. In addition, Warsaw has a metro system. Long distance passenger travel by train is accommodated by the Polish State Railways (PKP). The services vary from intercity, Eurocity, express and regular trains. For Eurocity transport tickets must be purchased allowing for a designated seat on the train. Sleeping cars and dining cars are available on most long distance trains.


Travel by Water
Although not generally used as a means of travel from one destination to another, the canals, lakes and seaside allow for sailing and boating.


Travel by Road
Car hire is available, with or without a driver, at most airports, hotels, border crossings or travel agents. An International Driving Permit will be required.

Coaches or microbuses depart from coach stations offering intercity transportation. Urban bus transport is provided in the many cities. These services include regular, express and evening routes. Taxi ranks are marked "TAXI" and are usually situated near airports, hotels and railway stations. You can request a taxi by phone, or if you're battling with the lingo, I am sure your hotel/restaurant/host will oblige. Fares are higher between 10pm and 6am. Intercity fares will need to be negotiated.


What Side of the Road?
Driving is on the right side of the road.

Speed Limits: Town - 60 kph; open road - 90 kph; motorway - 110/130 kph



International Driving Permit:

The International Driver's Permit is required.

What is an International Driving Permit?

The 1949 (IDP) is a special licence for tourists, authorised by a UN treaty among nations of the world, for the purpose of allowing motorists to drive vehicles in international traffic without further tests or applications. It is proof that the holder possesses a valid driver's licence issued by a competent authority in their country of residence.

How do I obtain one?

You can obtain an application by either contacting your local Automobile Association office to pick-up or have an application mailed to you.

Entry Documents
Entry Requirements
Check the table below for the required type of ID, visa or permit needed to enter Poland. If it is not apparent to a border official that you are only visiting Poland (by presenting your itinerary and/or return ticket) you might be asked to provide the address of your accommodations and your planned departure date. Regulations change periodically. Please contact the consulate office closest to you.
| | | | | |
| --- | --- | --- | --- | --- |
| | | | | |
| Passport: | Yes¹ | Yes¹ | Yes¹ | Yes¹ |
| Permit/Visa: | Yes² | No² | No² | Yes² |
| Return Ticket: | No | No | No | No |

1) Passport:
Passport valid for at least 6 months beyond your scheduled length of stay.
2) Visa/Permit/Tourist Card:
Citizens of the USA can stay for up to 90 days without a visa. Citizens of the UK can stay for up to 180 days without a visa.
Single parents or other adults vacationing alone with children should be aware that some countries require documentary evidence of parental responsibility before allowing lone parents to enter the country or, in some cases, before permitting the children to leave the country.
Travel Advisories
Personal Security
Most theft on foreign holidays occurs because opportunities present themselves. Petty crimes usually occur in areas where tourists gather such as resorts, beaches and market places. A few simple precautions may help you from being an easy target.
Don't wear expensive jewelry or watches.
Keep bags in view and in contact. Bags left under tables or slung over the back of a chair make easy targets, as do valuables left by an open window.
Avoid keeping all your valuables in one place.
Leave unneeded valuables in a hotel safe if possible.
Keep a separate record of serial numbers, travellers cheque and local contact numbers for your embassy.
Photocopy all important documents, credit cards, passport, drivers license and other ID. Keep them in a separate, safe place.
Avoid public demonstrations or political gatherings
Health Precautions:
You should always check with your physician to see if any vaccinations are needed. A Hepatitis A and B vaccine is recommended for most foreign travel, especially in the tropics. Check the entry requirements for all countries on your itinerary. A Yellow Fever vaccination certificate might be required if you are travelling in or through an infected area.
Malaria
Areas of Risk:
None.
CHL Resistance:
Not applicable.
Recommended Prophylaxis:
Not applicable.
For recent updates, visit the
CDC web site
.